HEIDI'S® ALS UNI / TWIN / TRIO IN NEUEN TOPFGRÖßEN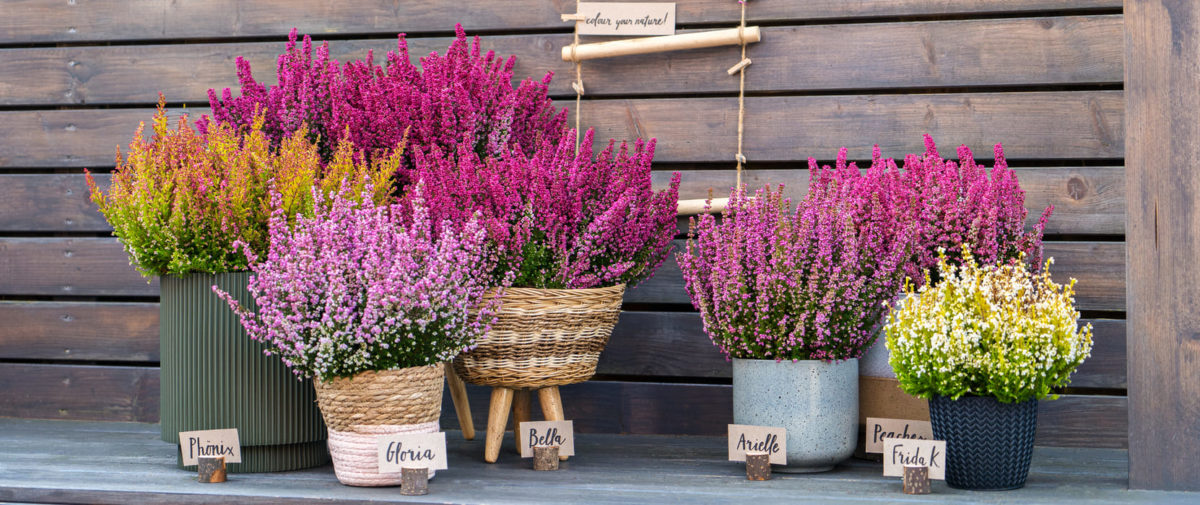 Ob im Topf vor der Haustür oder im Kübel auf der Terrasse, im Balkonkasten oder Beet, ob alleinstehend oder zusammengepflanzt oder ganz traditionell auf dem Friedhof – die Bepflanzungsmöglichkeiten der Heidi's® sind so vielfältig und individuell wie die Käufer selbst.
Ab Herbst 2023 sind die Heidi's® in den Topfgrößen T6, T10, T11, T12, T13 und T17 als Uni, Twin oder Trio mit jeweiligem EAN-Code verfügbar.
Jede Topfgröße ermöglicht die besten Voraussetzungen für den jeweiligen Gebrauch und kann somit auch zukünftig den vielfältigen Ansprüchen der Kunden gerecht werden.
Mit der größten Farbauswahl am Markt für Erica gracilis bieten die Heidi's® Twin und Trio unzählige Farbvarianten und Farbkombinationen – egal ob klassisch rot-rosa-weiß oder herbstlich rot-orange-gelb – für jeden Geschmack ist etwas dabei.
HEIDI'S® SOLfanga – NEW BRAND CONCEPT FOR SCANDINAVIA
In Scandinavia there is a very special myth about the beautiful Erica gracilis plant:
It is said that the Erica catch the last rays of sunshine of summer and carry them into the house before the darkness of winter comes.
We perceive this myth as a very nice and positive association for the Heidi's®, which is why we are building the new brand concept on it.
The result of this is now:
'SOLfanga – catch the sunlight!'.
With a flowering time from August and the pink-red colours, the Heidi's® varieties exactly meet the needs and demands of the Scandinavian market.
The SOLfanga plants are sold in their own concept pot with one SOLfanga stick label per pallet.
Other advertising materials, such as posters or sales folders, are available for successful sales support.
NEW HEIDI'S® VARIETY FOR YOUR AUTUMN SALES 2023
Matching Heidi's® Mix-CC-container for your individual composition and the best time to sell.
All colour variations are available over the entire sales period.
The following applies to all Mix-CC-Containers:
Equipping with attractive advertising material as an eye-catcher.
HEIDI'S® OVERVIEW OF VARIETIES
The Heidi's assortment consists of 15 varieties and offers the largest range of colours on the market
from standard to special colours to tow-tone.
The variety of shapes with different flower sizes and foliage colours provide a certain variety.
The long flowering period ensures a long sales period from mid of August to mid of November.
Individual varieties have an extra long flower life, which is why they can be assigned from the early to the late assortment.
HEIDI'S® VARIETIES DETAILED DESCRIPTION